Well, after an interesting couple of weeks I have returned. That span of time has included some nasty stomach issues and a 1000 mile round trip with the family. Wanna know what makes Illinois in autumn look like a prelude to living in the arctic? This:
This is where we lived previously. Quick note to those living in southern Appalachia, don't move. Trading this for most other locales ranks right up there with drafting Sam Bowie before Michael Jordan. Do not become the Portland Trailblazers of the "I want to live here" world. They made a similar call with Oden later. I can only assume that we have learned and will not seek out oasis like settings such as Kansas or Iowa when we take our show on the road again in a few years.
Instead, we'll get this soon enough: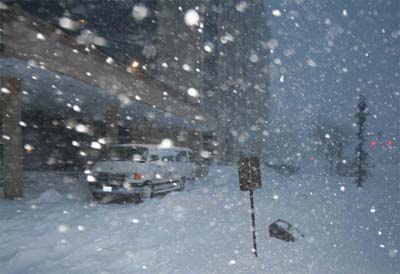 Welcome to Hell, here's your shovel. Thanks to our incredibly fun drought this summer, we've also been staring at bare fields for about a month now. Time to feed the topography to cows in other states I guess. However, I will say that I am thankful for one thing about Illinois. It is flat. When it comes to running, that is awesome. Looking out across portions of Tennessee, Kentucky, and Virginia, I could only imagine the pain that could be caused by all those hills. There must be more people who take up running in the Midwest than in the South. Who in their right mind would look at all those elevation changes and say,"Huh, I bet I could run up and down those hills." If I ever feel that my body is worth a little less to me, I'll run from Cumberland Gap, TN to Jonesville, VA. It is amazing, you just keep going up. It was something I had never noticed until I began running. It would be a 35 mile run, under 10 miles more than a marathon. I hope that I never dislike myself enough to take on such a challenge.
For those of you who have never traveled such a distance with two kids, eight and two, let me shed some light on this process. While both were pretty well behaved, there is the entertainment issue. We bought a new DVD player for our car and it has two 9 inch screens. As an aside, I don't think the first TV I had in my room had a 9 inch screen. Every show looked like Pong in color. The little paddles made noise, similar to voices, and the ball usually represented one of the shorter characters on G.I. Joe or Transformers. By the way, both of those shows beat the hell out of cartoons today. I'm not sure you can force any more learning opportunities or social lessons into cartoons. Did G.I. Joe have any lessons? Yep, get rid of bad guys. Same lesson in Transformers and He-Man. Sorry, I think G.I. Joe did some reading PSA at the end of the show. That is the proper place, after the gunfire and explosions. There are very few cartoon characters left that impart no messages related to learning, growth, or development. The is one great exception:
Adventure Time is awesome. My daughter loves it. So do I. My wife thinks less of me every time I watch it. But this is not something that was on the playlist for our trip. We have the Backyardigans and Curious George for the Big O to watch. He is two and this passes for entertainment in his eyes. Let's break this down. Do you know what Curious George really is? He is a smaller version of this:
That's right. One day Curious George will pry open your mouth and note that he cannot see a soul in your pathetic little human body. Really, I get that the guy in the cartoon has some issues. He dresses in all yellow and wears an incredibly large hat. He also does things like leave the house and ask the monkey to cook a dinner for ten people. George also has a rudimentary knowledge of mechanical engineering and the ability to control other animals. General Thade, sorry I mean George, seems to be a little too bright for my liking. Some day Captain bright clothes is going to come home and find George slow roasting the cat while fashioning armor from stainless steel cookware. Thanks yellow guy, you've hastened the downfall of human society.
If I suspend disbelief and consider what might be worse than monkeys taking over, I can come up with one thing that stands out:
I'd rather play manservant to the apes and risk a Sean Connery style frontal lobotomy than face more hours in the car with the Backyardigans. Really? Pablo is some sort of penguin mutation with long legs. Austin is consistently discriminated against and makes fairly rare appearances. This is probably due to the fact that he is a kangaroo, which makes parents think of The Wiggles, which in turn makes parents drink heavily and neglect their children. What about the pink thing? Uniqua isn't even an animal. She's some kind of super bug looking thing. I guess that is where someone hit the creative wall. "Hmmm… hippo, moose, kangaroo, and mutant penguin. There are so few animals left. We'll just make up something that would be scary as hell if it existed in real life." Now we have Uniqua. Thank you bottom of the barrel writer guy. Probably the same guy that gave us Orko on He-Man.
The worst part about this show is that they miss some really good opportunities to entertain parents. For example, one of the mind numbing episodes has the hippo as a Siren. They play Siren Says to get something. Hippo/Siren goes brain dead and lets mutant penguin win. Anybody know how some people have described Sirens?
""Lolling there in their meadow, round them heaps of corpses rotting away, rags of skin shriveling on their bones."
We get a daft hippo that can't win at Simon Says.